Create clip1
Drag and resize the
blue
region to define your clip.
*To record a timelapse set your Manything app to 'Stills Only Mode' (via the settings page on the app)
Stills Only Mode is great for outdoor stuff because it doesn't need an internet connection to work, just run the app when you return home and Manything will automatically upload everything.
No sessions to display for this device
When you start a recording on this device in "Camera" mode a session is automatically created. Live sessions and any available recorded sessions for this device can be seen in this section.

No events to display for this device
Your phone will automatically send you events which you can review here.
You can easily create, save and share edited clips from your sessions.
To create a clip:
Choose a recorded session from the 'Sessions' tab or a motion event from the "Events" tab.
Select 'Create Clip' from the tools below the video pane.
Drag the blue region that appears on the timeline to mark the beginning and end of your clip.
Click 'Save'.
Clips can be up to 15 minutes long.
For more detail on sharing and downloading your clips please see our detailed clip FAQ.
You can use Manything to easily create Timelapse videos. Your session must have been recorded in the Stills Mode and with Mute Audio (select 'Stills Mode' and "Mute Audio' via the settings in the app on your device before recording)
To create a timelapse video:
Choose a recorded session from the 'Sessions' tab (the session must have been recorded in Stills Mode)
Select 'Timelapse' from the tools below the video pane
Click 'Save'
bookmarks
Control camera remotely
---
Waiting for camera to start
Camera is offline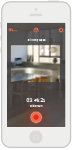 Camera busy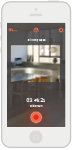 Camera version